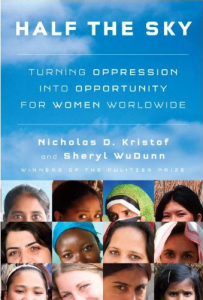 The Half the Sky Interest Group was formed as an outgrowth of the January 2011 branch book discussion of Kristof and WuDunn's book Half the Sky: Turning Oppression into Opportunity for Women Worldwide.
The Half the Sky Interest Group meets monthly to identify and support international women's organizations. Members have gone on field trips, attended movie/discussions, and read books. Each month, group members are encouraged to donate $5. The funds collected are distributed to various organizations that specialize in supporting women in developing countries.
Meetings, held at a member's home, are posted in the monthly AAUW newsletter. If you have questions or you wish to be placed on our email list, contact Betty Laliberte, 630-832-9010.
Guests are always welcome.