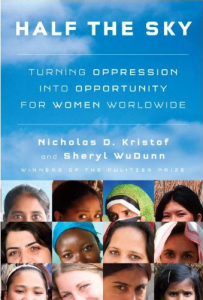 The Half the Sky Interest Group was formed as an outgrowth of the January 2011 branch book discussion of Kristof and WuDunn's book Half the Sky: Turning Oppression into Opportunity for Women Worldwide.
The Half the Sky Interest Group meets monthly to identify and support international women's organizations. We have gone on field trips, attended movie/discussions, and read books. Each month, group members are encouraged to donate $5. The funds collected are distributed to various organizations that specialize in supporting women in developing countries.
Meetings are held at a member's home, in the evening, usually monthly. We welcome all who are interested. The first meeting will be Tuesday September 25, at 7:30 pm at Perry Doubt's home. For more information or to be placed on our email list, contact Betty Laliberte.
All members are welcome to join the group (contact Betty Laliberte), and anyone may be included on the email list for Half the Sky by sending an email to Perry Doubt.