NEWS FOR HALF THE SKY
Special Thanks to AAUW member Susan Boyd of TAMANDARE Travel and board member of Dare to Dream, for connecting us to Lorenzo Rubio and his presentation on the challenges of immigrant students at York.  We have been in contact with the EL counselor about a senior young woman who dreams of being a nurse.  More details at the picnic!.
Interfaith Community for Detained Immigrants  news: Pat Motto has another idea for assisting immigrants via ICDI.
Preparing ziploc bags containing 6 tampax and 4 sanitary pads  for women coming through the bus station in need of sanitary pads. Barbara Hunter has scoped out Costco and we are able to make 16 bags using.one box of Tampax 96 count and one box of Ultra absorbent pads 76 count for $30+tax.
Preparing snack bags for the bus rides.
Preparing wallets with $20.00 to assist people.
Elmhurst Resource Collaborative  will be hosting a July event to assist families at the NW corner of  District #205 prepare for registration and the beginning of the school year. Judy Ekblad and Susan Boyd are members of this group.   We can learn from them about this population's needs as they become apparent.
NEWS ON IMMIGRATION
https://www.washingtonpost.com/politics/2021/05/04/joe-biden-live-updates/
Vice President Harris decried corruption in the Northern Triangle as she delivered a speech committing the United States to do more to help address the root causes of a surge in migrants coming to the U.S.-Mexico border in recent months.
https://www.nytimes.com/2021/04/07/magazine/immigration-el-salvador.html
"Their Lawsuit Prevented 400,000 Deportations. Now It's Biden's Call. "
Trump tried to end a 30-year program that shielded migrants, many fleeing conditions that U.S. foreign policy helped foster. What does America owe them?
By the end of May there will be much more news.
YOU ARE INVITED!
Our Half the Sky Study Group is inviting you to join our efforts in 2021.
There are so many ways to participate:
We are a study group: This year Half the Sky investigates the current situation of women in Afghanistan. Watch the newsletter for details.
We are an action group: Our Action component focuses on LOCAL immigrant needs. We are interested in teaming with like-minded groups within our neighboring communities.
There are benefits for all:
FOR US: The most fundamental benefit is that we not only learn about women all around the world who are in need and about how others are working to change their plight, but we also contribute to changing their world for the better. We gain satisfaction as we contribute to important projects that will have a real impact on those in need.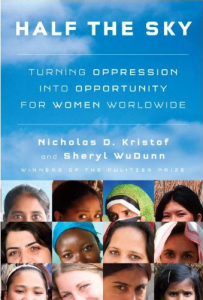 FOR OTHERS: In 2011 Half the Sky was created after an all-branch-read of Nicholas Kristoff and Sheryl WuDunn's book, Half The Sky, placed a spotlight on serious women's issues around the world. This inspired members to further investigate women's issues and to find ways for us to help.
What have we done?
We make modest voluntarily donations to organizations that we have studied at monthly meetings.  Since 2011 we have sent $6,780 to 27 organizations making a difference in the lives of women.
 One of the first donations was to KIVA, providing microloans for women's projects.  Our donations totaling $300 have been loaned out and repaid twenty times. That money has assisted multiple women's initiatives.
We have funded four fistula operations that enabled women who were injured in childbirth to reclaim their lives.
We have also sent funds to support a variety of projects that benefit women around the world.
We have contributed bras to the FREE THE GIRLS organization for the past two years.  Last year more than a dozen members spent an afternoon making cloth sanitary pads for DAYS FOR GIRLS  addressing the challenge of young women who are absent from school one week a month because of their period.
What are we doing now?
We meet on the fourth Tuesday of every month at 7 pm.
WANT TO HELP?                  JOIN US!
We welcome you to join us in any way you feel comfortable. Participating in meetings (Fourth Tuesday evening of each month,) contribute financial support, send us your ideas. We can assist women, even in the isolation of this COVID-19 winter!
To learn more or join our email list, email Betty Laliberte  or call and leave a message @ 630 832 9010.
Guests are always welcome.