NEWS FOR HALF THE SKY
Study Group Chair, Betty Laliberte

YOU ARE INVITED!
Our Half the Sky Study Group is inviting you to join our efforts in 2022-23. We meet on the fourth Tuesday of every month at 7 pm usually at a group member's home.
SEPTEMBER 2022

Elizabeth Neill has contacted  Bob Naiman who has worked for a "grassroots" foreign policy organization for many years. He will talk about Yemen via Zoom on September 27 at 7 pmat Elmhurst Public Library's Kossmann Room

Our congress has introduced bills about the war resolutions act ….. https://www.fcnl.org/updates/2022-06/house-lawmakers-introduce-yemen-war-powers-resolution

Here is a link to further links about YEMENI WOMEN that you might explore before the meeting.
https://women4yemen.org/en/statements-3/english/statement-by-the-yemeni-women-group-of-nine-network.html
Our action component will be local contributions to immigrants. We jJust received information from Pat Motto about the possibility that Texas may be sending busloads of immigrants to Chicago. Let Betty Laliberte know if you want to participate in creating the snack bags.
There are so many other ways to participate:
We are a study group: It is time for the wonderful women who "hold up Half the Sky"  [Chinese saying] to begin our new study year. We will be studying women's efforts around the world with an eye to supporting groups in a modest fashion.
We are an action group: Our Action component focuses on LOCAL immigrant needs. We are interested in teaming with like-minded groups within our neighboring communities.
There are benefits for all:
FOR US: The most fundamental benefit is that we not only learn about women all around the world who are in need and about how others are working to change their plight, but we also contribute to changing their world for the better. We gain satisfaction as we contribute to important projects that will have a real impact on those in need.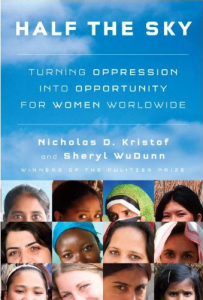 FOR OTHERS: In 2011 Half the Sky was created after an all-branch-read of Nicholas Kristoff and Sheryl WuDunn's book, Half The Sky, placed a spotlight on serious women's issues around the world. This inspired members to further investigate women's issues and to find ways for us to help.
What have we done?
We make modest voluntarily donations to organizations that we have studied at monthly meetings.  Since 2011 we have sent $6,780 to 27 organizations making a difference in the lives of women.
 One of the first donations was to KIVA, providing microloans for women's projects.  Our donations totaling $300 have been loaned out and repaid twenty times. That money has assisted multiple women's initiatives.
We have funded four fistula operations that enabled women who were injured in childbirth to reclaim their lives.
We have also sent funds to support a variety of projects that benefit women around the world.
We have contributed bras to the FREE THE GIRLS organization for the past two years.  Last year more than a dozen members spent an afternoon making cloth sanitary pads for DAYS FOR GIRLS  addressing the challenge of young women who are absent from school one week a month because of their period.
What are we doing now?
WANT TO HELP?                  JOIN US!
We welcome you to join us in any way you feel comfortable. Participating in meetings (Fourth Tuesday evening of each month,) contribute financial support, send us your ideas. We can assist women, even in the isolation of this COVID-19 winter!
To learn more or join our email list, email Betty Laliberte  or call and leave a message @ 630 832 9010.
Guests are always welcome.