Used Book Sale Was a Great Success!!!
Thank you to all of you who helped make this book sale a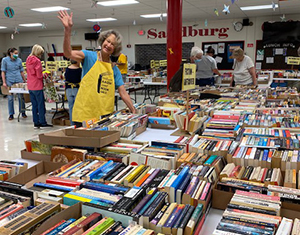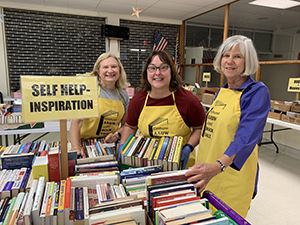 success. Without the fantastic location from Elmhurst School District 205, all of the many community members who donated books and more, our members who sorted everything and worked at the book sale, and the York High School football team members who cleaned up at the end of the sale,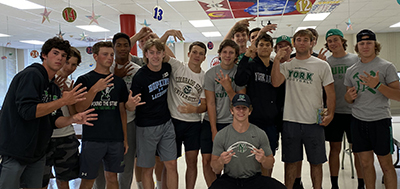 our branch could never do this. We are especially grateful to Carolyn Heiney and her book sale committee for all the work you did.
2020-21 Returning Student Scholarship Winners
The two Returning Student Scholarship winners were introduced to the branch members at the AAUW Elmhurst Area Branch Picnic on Saturday, June 12, 2021, at Salt Creek Park, Elmhurst, IL.
Heather Callan has been working at Advocate Healthcare, now Advocate Aurora Health for nearly 10 years. She has worked as a manager in the Clinical Informatics area which is predominantly served by women. Now she is pursuing her MBA at Elmhurst University to improve her chance of capturing job opportunities in the Information Technology area as well. IT is predominantly led by men. So, one of Heather's goals is to become a woman who can be a leader among men.
Megan Pagel works full-time as a social worker with a special interest in supporting people in their quest for mental health. She already has a bachelor's degree and a master's degree in social work, but now she is seeking another bachelor's degree in nursing from Lewis University. Her goal is to become a Sexual Assault Nurse Examiner (SANE). After graduation, she hopes to work in an emergency department and care for patients who experience domestic violence and/or sexual assault. As a social worker and registered nurse, Megan will be able to attend to the mental and physical toll this type of violence takes on her patients. Megan has a very specific goal at this time in her life. She is well on her way to reaching that goal with her determination and hard work.
Branch Meetings
Branch meetings will resume in September. When information is available it will be posted here.
AAUW Elmhurst Area Branch Strategic Plan
Mission: To advance gender equity for women and girls through research, education, and advocacy
Vision: Equity for all
Values: Nonpartison, fact-based, integrity, inclusion, and intersectionality
Specific Areas of Focus: Education and training, economic security, leadership, governance, and sustainability
Work Smart Workshop: Training to successfully advocate for yourself and help close the pay gap for women everywhere