Annual Book Sale
Our Used Book Sale will be at a new location this year.
Donations will be accepted starting June 26.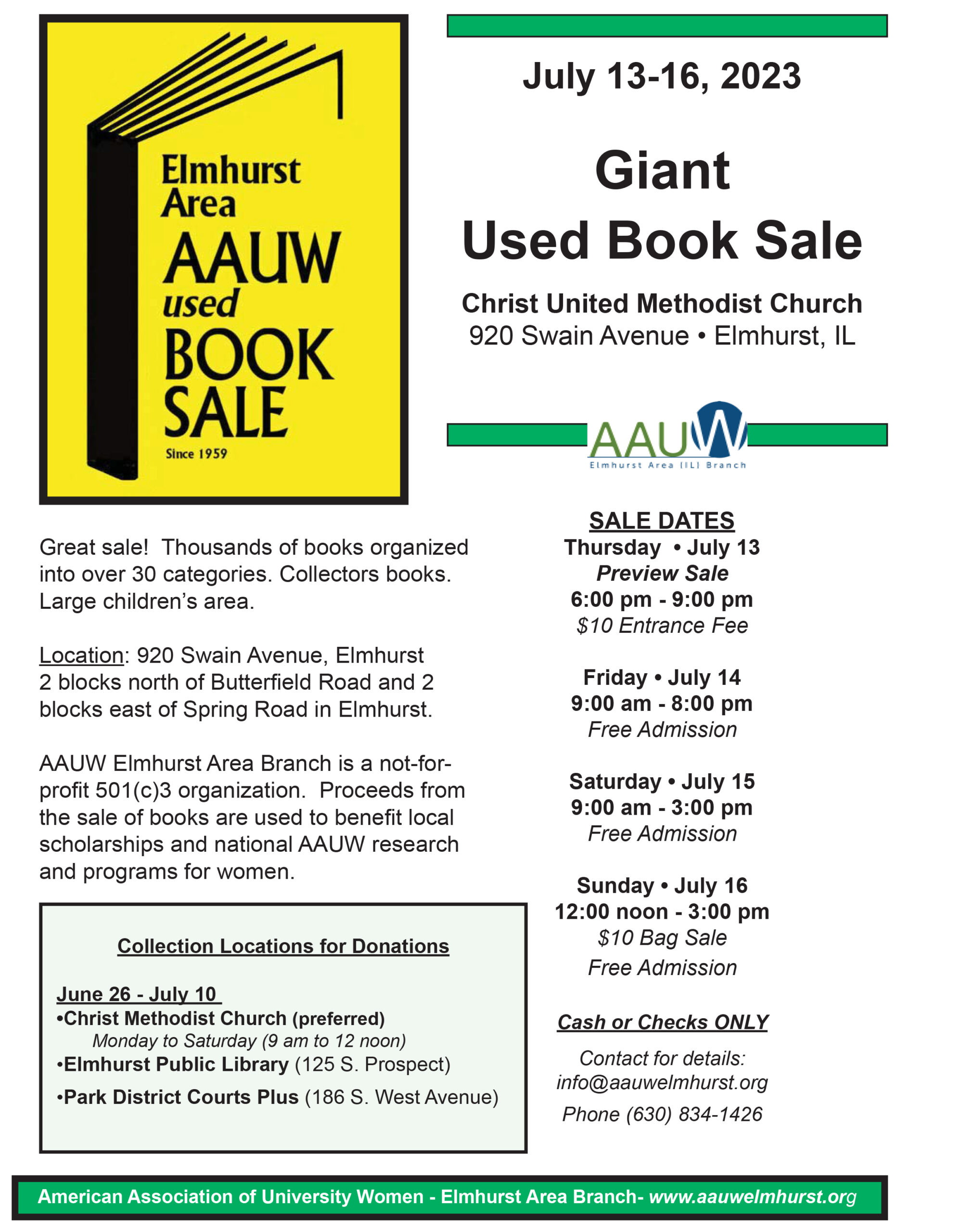 Branch Meeting
Meetings will resume in September with Fall Supper.


Study Groups
Half the Sky
Meetings will resume in September.If you have questions, contact Betty Laliberte.
Book Discussion Group
Thursday, June 1, 5:30 pm
Potluck Supper

The Girls of Stilt House by Kelly Mustain
Discussion Leader: Darlene Van Meir
Hostess: Carol Rounds

Membership Dues Renewal
The new format for membership renewal is up and running. If your membership expires on June 30th (this will be the majority of members), you should have received an email in the past week to renew with instructions. I have  the instructions are also included here. Online renewal is encouraged.
To pay online: Visit the AAUW Login page. If you have visited the Community Hub before and have already established an account, you can log into your Personal Snapshot. If you have not, click, Forgot Your Password located below the blue login button at the bottom of the page. Enter your email address that is used to send you messages, then click Reset Your Password to receive a login email from infosf@aauw.org. If you don't receive it in 5-10 minutes, email connect@aauw.org. PLEASE DO NOT CREATE A NEW ACCOUNT. After you receive the login email, enter your email address and "Create and Confirm your Password" to access your Personal Snapshot.
Once you are in your Personal Snapshot, click RENEW at the bottom of the screen to renew your national, branch, and state memberships! Dual members should self-renew ALL memberships at once. College/University representatives whose national membership is covered by the school should email connect@aauw.org to request a special code before renewing.
To pay by check: As always, you have the option of making a check payable to  AAUW Elmhurst Area Branch, NFP, and mailing it to P.O. Box 243; Elmhurst, IL 60126.
–Linda Fischer, Membership Chair

AAUW Elmhurst Area Branch Strategic Plan
Mission: To advance gender equity for women and girls through research, education, and advocacy
Vision: Equity for all
Values: Nonpartison, fact-based, integrity, inclusion, and intersectionality
Specific Areas of Focus: Education and training, economic security, leadership, governance, and sustainability
Work Smart Workshop: Training to successfully advocate for yourself and help close the pay gap for women everywhere
The Elmhurst Area Branch is a 501(c)(3) Not for Profit affiliate of The American Association of University Women. Donations are tax deductible as charitable contributions.