Upcoming Branch Activities
50 Year Member Social
Friday, March 9th
12:00 noon
Virginia Curran's Home
March Meeting/Program
"Current Issues in Public Education"
Wednesday, March 14th
7:00 pm
Elmhurst Public Library
AAUW Elmhurst Area Branch member, Jennifer Aldred, Ph.D., will update, educate, and lead a discussion on the topics of Illinois 5Essentials, the challenges of student immigration, and the value of full day kindergarten.
This meeting/program is free and open to the public
Book Group
The Last Days of Night
by
Graham Moore
Thursday, March 22nd
1:00 pm
Hostess: Darlene VanMeir
Leader: Anna Kinnan
STEM Activity – Tech Savvy Illinois
Saturday, March 24th
8:30 am-4 pm
Triton College
2000 North 5th Avenue
River Grove, IL
Volunteers are needed to support the 5th Chicagoland Tech Savvy program.  Over 200 students and 100 parents are expected to attend.
Please click here for the 2018 Tech Savvy Informational Flyer.
Please click here for details on available volunteer opportunities and sign-up information.
Half the Sky Group
Tuesday, March 27th
7:30 pm
Perry Doubt's Home
Returning Student Scholarships
The AAUW Elmhurst Area Branch is offering two(2) scholarships of 3,000 each.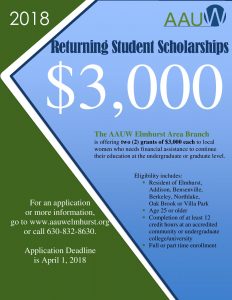 Please visit the Scholarship Page for more details and for an application.
The Application Deadline is April 1, 2018.
---
AAUW Elmhurst Area Branch is dedicated to the AAUW mission
of advancing equity for women and girls
through advocacy, education, philanthropy and research.
Visitors and prospective members are welcome to all of our meetings.  If you are interested in joining our branch, please come to one of our meetings and ask for a membership application.
Elmhurst Branch Philanthropic Activities
For over 50 years, the Elmhurst Area Branch has sponsored an annual Used Book Sale. This is our primary fund raising activity. The sale is usually held the first Thursday-Sunday in August at an Elmhurst school. The proceeds from this sale are used to fund AAUW research and programs on the national level as well as scholarships at the local level. The 2016 Book Sale was another resounding success, raising funds for scholarships and providing an inexpensive place for the community to shop for a complete range of books.
Elmhurst Branch Activities
The Branch has general meetings on the second Wednesday of the month from September through May.  Programs begin at 7:00 p.m. and are usually held at the Elmhurst Public Library.  For details on this year's program line up, see the Program page.
In the summer, our members are actively involved in preparing for the Annual Used Book Sale. Volunteers are always welcome.
The Branch also has a number of special study groups.  These currently include:
Book Discussion Group
Half the Sky
AAUW Value Promise
By joining AAUW, you belong to a community that breaks through educational and economic barriers so that all women have a fair chance.
AAUW Mission Statement
AAUW advances equity for women and girls through advocacy, education, philanthropy, and research.
Accepting members with Associates Degrees or higher.