Branch Meeting
Wednesday, November 3, 7 pm
Protecting Seniors from Identity Theft, Scams, and Elder Abuse

Julianne Rizzo (RN, MBA, Certified Senior Advisor, Oasis Senior Advisors) discusses how to protect seniors against identity theft, scams, and care giver abuse.She goes over identity theft from how it happens, to methods of prevention and actions to take if it happens. Julianne tells us about the types of scams, situations to avoid, at-risk activities, targets, perpetrator's intentions, and signs to watch for. Finally, learn prevention tips and victims resources.
Members, watch your email for a Zoom link to the November meeting.
Guests are always welcome. Contact Suzanne Stock to get the Zoom link.

Book Discussion
Thursday, October 28, 1 pm
Joy Luck Club by Amy Tan
Discussion Leader: Elaine Davidson
Hostess: Elaine Davidson
Half the Sky
Tuesday, October 26, 7 pm
Half the Sky will meet together. You choose which way you are most comfortable:
at 7pm in the GATHERING ROOM, 2nd floor of the Elmhurst Public Library or via Zoom.
Members will get an email with access directions for ZOOM. We will discuss the challenges for Afghani Women.
OUR WELCOME KIT project with World Relief:
As unbelievable as it seems, we have completed TWO WELCOME KITS to bring to World Relief for the Afghani Refugees and others.  We are overwhelmed with the generosity of the group.
THANK YOU. THANK YOU.  THANK YOU.
IF YOU WANT TO CONTRIBUTE BUT HAVE NOT YET SHARED ITEMS, we are working on our 3rd WELCOME KIT. Because the items needed change so rapidly, please email Betty Laliberte for the current list.
OUR SUPPORT of Interfaith Community for Detained Immigrants: The  Chicago Greyhound Bus station brings many immigrants and refugees who have travel needs. Pat Motto has reported that the group has enough children's shoes.  THANK YOU for all your donations. There is a need for small and medium tee-shirts for both men and women.
Email Betty Laliberte with any questions or items you wish to donate.

Used Book Sale Was a Great Success!!!
Thank you to all of you who helped make this book sale a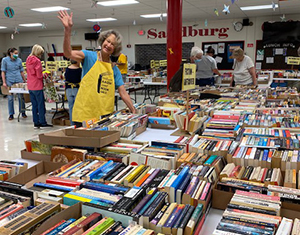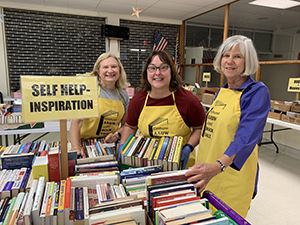 success. Without the fantastic location from Elmhurst School District 205, all of the many community members who donated books and more, our members who sorted everything and worked at the book sale, and the York High School football team members who cleaned up at the end of the sale,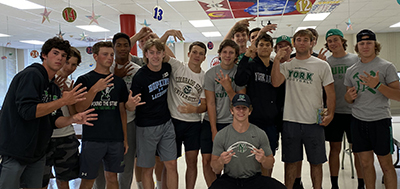 our branch could never do this. We are especially grateful to Carolyn Heiney and her book sale committee for all the work you did.

AAUW Elmhurst Area Branch Strategic Plan
Mission: To advance gender equity for women and girls through research, education, and advocacy
Vision: Equity for all
Values: Nonpartison, fact-based, integrity, inclusion, and intersectionality
Specific Areas of Focus: Education and training, economic security, leadership, governance, and sustainability
Work Smart Workshop: Training to successfully advocate for yourself and help close the pay gap for women everywhere