Used Book Sale
August 4 – August 7, 2022
The book sale was a great success. The Branch wants to thank all those who made it possible: the buyers, the donators, the workers, and anyone else who contributed to another successful fund raiser.
Branch Meeting
The next Branch meeting will take place September 7, 2022.
2022 Scholarship Winners
The AAUW Funds Committee met in person on Thursday, April 21, and selected three winners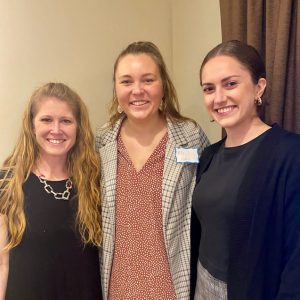 of the Returning Student Scholarships. They are
Kiley McLean of Elmhurst who is nearing the end of her PhD Program in Social Work at the University of Wisconsin,
Madison Navarro also of Elmhurst who is starting her program toward her Doctor of Physical Therapy at Duke University,
Michaela Rendon of Bensenville who is a first-year student in the Master's Degree of Counseling Psychology Program at the Chicago School of Professional Psychology.
We are very pleased to be assisting these outstanding women in their academic pursuits.

AAUW Elmhurst Area Branch Strategic Plan
Mission: To advance gender equity for women and girls through research, education, and advocacy
Vision: Equity for all
Values: Nonpartison, fact-based, integrity, inclusion, and intersectionality
Specific Areas of Focus: Education and training, economic security, leadership, governance, and sustainability
Work Smart Workshop: Training to successfully advocate for yourself and help close the pay gap for women everywhere
The Elmhurst Area Branch is a 501(c)(3) Not for Profit affiliate of The American Association of University Women. Donations are tax deductible as charitable contributions.