Scholarship Winners
2022-23 Returning Student Scholarship Winners
The AAUW Funds Committee met in person on Thursday, April 21, and selected three winners of the Returning Student Scholarships. They are
Kiley McLean of Elmhurst who is nearing the end of her PhD Program in Social

Work at the University of Wisconsin,

Madison Navarro also of Elmhurst who is starting her program toward her Doctor of Physical Therapy at Duke University,
Michaela Rendon of Bensenville who is a first-year student in the Master's Degree of Counseling Psychology Program at the Chicago School of Professional Psychology.
We are very pleased to be assisting these outstanding women in their academic pursuits.
2022-23 Dare to Dream Scholarship Winner
Ariana Garcia-Villalba of Warrenville, Illinois, is the 2022 Dare to Dream AAUW Scholarship winner. Ariana graduated from Wheaton Warrenville South High School this year and plans to attend the College of DuPage this fall. Her goal is to study international business and computer programming. AAUW Elmhurst Area Branch is pleased to support her effort with a $1,000 scholarship.
2021 Dare to Dream Scholarship Winner: Hilary Perez   
The Dare to Dream Scholarship is offered by our branch to a Female Hispanic Student who aspires to receive higher education. The applicants are screened by the Dare to Dream Board of Directors.  This year, Hilary Perez of Glendale Heights was selected to be the winner of this $1,000 scholarship. Hilary graduated from Glenbard East High School and will be attending Elmhurst University starting this fall.
Hilary plans to major in Finance and Spanish with the ultimate goal of finding a position either as a financial analyst or investment banker. We wish Hilary much success in achieving her goal.
2020-21 Returning Student Scholarship Winners
Heather Callan has been working at Advocate Healthcare, now Advocate Aurora Health for nearly 10 years. She has worked as a manager in the Clinical Informatics area which is predominantly served by women. Now she is pursuing her MBA at Elmhurst University to improve her chance of capturing job opportunities in the Information Technology area as well. IT is predominantly led by men. So, one of Heather's goals is to become a woman who can be a leader among men.
Megan Pagel works full-time as a social worker with a special interest in supporting people in their quest for mental health. She already has a bachelor's degree and a master's degree
in social work, but now she is seeking another bachelor's degree in nursing from Lewis University. Her goal is to become a Sexual Assault Nurse Examiner (SANE). After graduation, she hopes to work in an emergency department and care for patients who experience domestic violence and/or sexual assault. As a social worker and registered nurse, Megan will be able to attend to the mental and physical toll this type of violence takes on her patients. Megan has a very specific goal at this time in her life. She is well on her way to reaching that goal with her determination and hard work.
2019-2020 Returning Student Scholarships
The AAUW Funds committee has decided to hold all Returning Student Scholarship money until next year.   Many applicants were unable to obtain records from their colleges and others did not have access to printers. All applicants are encouraged to apply again. They will be notified when the scholarships become available, and they have been encouraged to check the AAUW web site. 
2019-2020 Dare to Dream Scholarship Recipient
Naybet Mendoza has been awarded the $1000 Dare to Dream Scholarship.  Naybet attended Maine West High School, where many of her classes were at the Honors or AP level. Her school activities included Water Polo, Swimming, Cosmetology Club, LatinX Club and Spanish Honor Society.  Naybet also spent many hours volunteering in her church, public library and Lee Manor Nursing Home. She has worked at the Park District and La Michoacana. Naybet attended the Dare to Dream Conference in 8th grade and was inspired by the stories and attitudes of the successful Hispanic women presenters.  This experience helped to shape her perspective that "you control your own fate" and impacted how she lived her high school years.  Naybet's intended major is Education.  She hopes to attend the University of Illinois at Chicago.
2018-2019 Returning Student Scholarship Recipients
The branch awarded two $2,500 Returning Student Scholarships.
Claudia Oropeza graduated from the University of California San Diego in 2002 with a BS in Biochemistry & Cell Biology. She then accepted an opportunity at the University of Illinois at Chicago to work on several projects related to the hepatitis B virus. Claudia next completed an MBA program at Elmhurst College with an emphasis on data science. She is currently enrolled part time in the University of Chicago's master's in biomedical informatics program while working as a Senior Research Specialist in the Department of Microbiology & Immunology at UIC. Her goal is to become an interdisciplinary research leader to help solve challenging biomedical research problems. Claudia is very grateful for the AAUW scholarship and hopes to be able to give back to the organization by assisting with the 2019 Used Book Sale.
Paulina Rzeszowska was born in Poland and moved to the United States after high school. Her desire for higher education was strong, even though it was not thought to be necessary in her homeland. When Paulina arrived in the United States, she accepted a job working in cleaning services and caregiving. She has worked her way up to Property Manager/Housekeeper. Paulina never wavered in her desire to advance her education and to help others. At 30 years of age, she went to an open house at the College of DuPage and enrolled in the nursing program. She chose nursing because she feels that "being a nurse is making a difference in someone's life". Paulina is expected to graduate from COD in December of 2019 and hopes that her children are proud of her accomplishments.
2018-2019 Dare to Dream Scholarship Recipient
Gabriela Hurtado of Melrose Park has been awarded the $1,000 Dare to Dream Scholarship. Gabriela attended West Leyden High School, where many of her classes were at the Honors or AP level. Her school activities included National Honor Society, Student Council, Future Business Leaders of America, basketball team Captain, track and field, tennis team, and L-Club. Gabriela also spent many hours volunteering, primarily with High School Heroes and Make a Difference Day. Gabriela attended the Dare to Dream Conference in 8th grade and was inspired by the stories and attitudes of the successful Hispanic women presenters. This experience helped to shape her perspective that "you control your own fate" and "impacted how she lived her high school years". Gabriela's intended major is Bioengineering/Biomedical Engineering. She is currently deciding which college to attend.
2017-2018 Returning Student Scholarship Recipient
The 2017 Used Book was so successful that our branch was able to award two $3,000 Returning Student Scholarships.
Suzanne Oddo earned a B.A. in Nursing from Lewis University and has 12 years of comprehensive nursing experience.  She has been working in Labor & Delivery for the last 7 years.  Suzanne lovers her job, but felt a need to acquire tools that would help her to assist and lead others in her profession.  She is enrolled in the Master of Science in Nursing program at Olivet Nazarene University with the expectation of receiving her degree in March 2020.  Suzanne has 2 daughters and hopes that she is providing a good example to them by pursuing her own dreams.
Robyn-Leigh Zaras  received her B.A. in Management from Benedictine University and has been an administrative professional for the past 15 years with an academic and career background in accounting.  Robyn realized that she needed to further her education to be promoted.  She also realized that she loved auditing!  Robyn-Leigh is presently enrolled in the Master of Science in Accounting program at Benedictine University with graduation expected in March of 2019.  Robyn hopes that by furthering her education, she is being a good role model to her 3 children.
 2017-2018 Dare to Dream Scholarship Recipient
Ariana Nava of Melrose Park was awarded the $1,000 Dare to Dream (D2D) Scholarship this year.  Ariana attended Proviso Math and Science Academy, where her classes were at the Honors or AP course levels.  Her activities included National Honor Society, math team, volleyball, and volunteering as an altar server at her church.  Ariana attended Dare to Dream (D2D) as an 8th grader and later became a panelist at a D2D conference where she shared her experiences and advice for navigating high school with younger girls.  She credits D2D with encouraging her to continue her education beyond high school.  Ariana plans to attend Northern Illinois University to major in hospitality and tourism management.
2016-2017 Returning Student Scholarship Recipient
Casandra Townsel was chosen this year to receive our Elmhurst Branch's $3,000 scholarship. With her B.A. in Psychology, she has been a case manager with 19 years of experience providing supportive services to individuals with special needs.  Casandra is now working toward an MSW in Social Work at the University of North Dakota in order to be able to provide supportive services in a therapeutic setting.  She is currently in the process of becoming a mentor and ultimately a therapist for victims of human trafficking.  When Casandra was notified that she was the winner of the scholarship, she was overwhelmed. She said, "In my job there is no money for education or bonuses for doing a good job, so this is so important to me."
2016-2017 Dare to Dream Scholarship Recipient
The Elmhurst Branch gave Dare to Dream $1,000 to award a scholarship to a Latina high school senior who wishes to attend college after graduation.  This year's Scholarship winner, chosen by the Dare to Dream Scholarship Committee, is Carolay Alvarado.  Carolay is a Northlake resident and attended West Leyden High School.  She has decided to attend Illinois Wesleyan University and intends to major in chemistry.  Carolay eventually hopes to become an obstetrician/gynecologist.  She had a 4.2 GPA and carried many AP and Honors classes. Carolay is also involved in many volunteer activities. A native of Honduras, she admits that assimilating to a new culture has been difficult for her and her family. The Dare to Dream: Get Educated Conference, however, provided her with connections and support that helped her get through her first year of high school all the way to now and applying to colleges and universities. "Because of Dare to Dream, I will continue to follow a path of education that will, hopefully, make a significant difference in the world".
 2015-16 Returning Student Scholarship Recipient
Samantha Bauer is attending Washington University in St. Louis where she will study for her Master of Science in Occupational Therapy.  She plans to pass the NBCOT exam and practice as an occupational therapist.  Samantha graduated in 2011 with a Bachelor of Art, cum laude, from Washington University where she majored in Psychology and in Women, Gender and Sexuality Studies. However, it was her experience being paired with a boy at the Caring for Kids Camp coordinated by the Rehabilitation Institute of Chicago that challenged her.  This boy was non-verbal, low functioning and a reluctant participant in anything. As this child started to respond positively to her sensory activity suggestions, Samantha knew occupational therapy was her goal. "I eagerly await the day I can implement what I've learned and create deep, positive change in the life of another as a full-fledged Occupational Therapist," she wrote in her application essay.  It took Samantha two years to complete graduate school prerequisite courses.  During this time, she also spent many hours as both an occupational therapist observer and volunteer.  Pediatrics currently holds a special interest for her.
2014-15 AAUW Returning Student Scholarship Recipient
Kathleen Ekeberg of Elmhurst is a student at the College of DuPage, having returned to school after a 20-year break.  She is studying accounting, with the goal of becoming a CPA.  She was chosen by the mathematics faculty to be a "math ambassador," who encourages other students in their study of math and provides strategies to help them study and overcome their fear of math. She has also been designated a "spotlight student" by the accounting department.  In addition to maintaining a 4.0 GPA, Kathleen holds two part-time jobs.  Kathleen cites a favorite quote from Olympic Gold-medalist Dara Torres:  "You don't have to put an age limit on your dreams."
2013-14 AAUW Returning Student Scholarship Recipient
Laura Mikulski of Bensenville.  Laura is working towards a Bachelor's degree in Marketing  at
Elmhurst College, with an emphasis in research. She is currently a Junior and looks forward to completing her degree. After college she hopes to pursue a career in advertising, marketing research or development. Laura says, " I can see my own personal rewards for receiving an education with or without the career that follows. Knowledge really is power. I hope to obtain my masters in the future, provided I can balance my life enough to properly provide for my child. I'm proud to set a good example for her, and with my life experiences I am better prepared to guide her towards her future education and career opportunities."
2013-14 AAUW Elmhurst Area Branch Dare to Dream Scholarship Recipient
Raquel Cuevas is a remarkable young woman who has overcome the challenge of cerebral palsy to become an outstanding student and prepare for a career in Special Education.  In her application essay, Raquel said she had always assumed that she would not achieve much in life because of her disability.  But then, "all of that changed the day I went to the Dare to Dream conference. I still remember to this day all of those inspiring Latina women, who told their stories about where they came from and how they got to where they are today. All these obstacles they faced.  I thought to myself, I want to be like them. " Not only is Raquel an honors student, she also participates in Sign Language Club, the Autism Society and Circle of Friends.  In addition to tutoring in the York Test Makeup Center, she participates in three leadership classes in which she acts as an aide to students in PE, art and cooking classes.  As she wrote, "My CP is a blessing in disguise that has brought me a unique sensitivity for children with disabilities and helps me see beyond their impairments."  Raquel will be attending Illinois State University and hopes to work with the deaf and hearing impaired.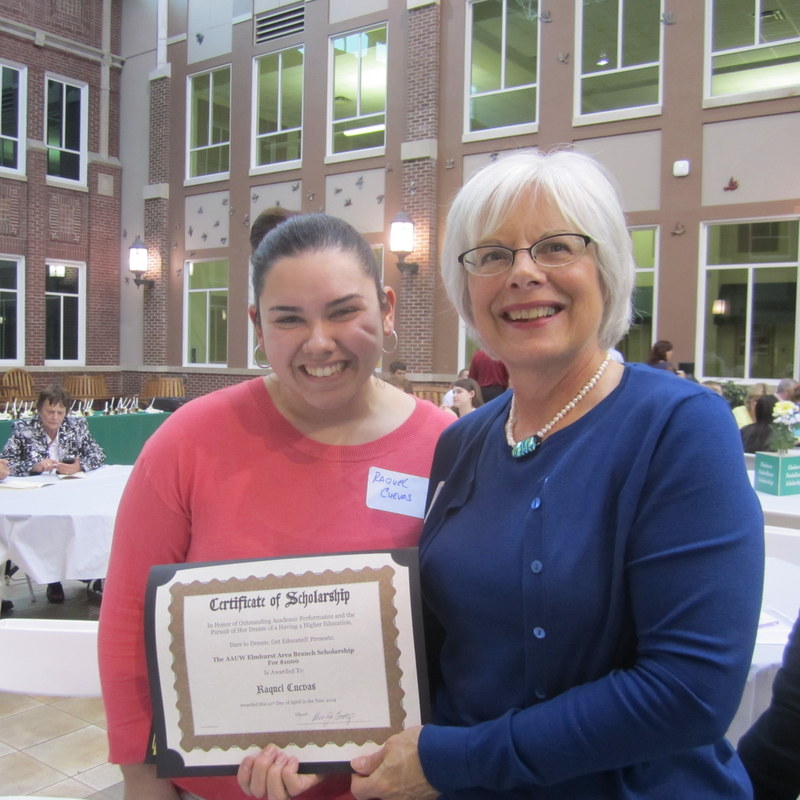 2012-13 AAUW Returning Student Scholarship  Recipient 
Michelle Halloran of Elmhurst.  Michelle is studying at College of DuPage to become a nurse.